I have had such an amazing and exciting week behind the scenes and have been absolutely bursting to announce my news!!!
AND.......
I have also been asked to join the Simon Says Stamp challenge team for 1 year too!!!!!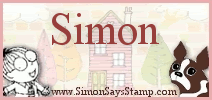 Of course I had to think about these DT posts long and hard for all of a nano second LOL!!! I'm soooooo excited to be on these teams of amazing talent and can't wait to get started! I hope you'll be able to stop by and see my first DT cards for them both!!
A huge thank you to both teams for the incredible honour of joining you, I'm thrilled to bits!!!! xxx